Cabinet lock KK2192 is used for securing cabinets and lockers.
The locker lock is delivered in the "Freelocker" mode. In this mode, the lock can be locked with any compatible RFID medium when it is not in use. The cabinet lock can then be unlocked again with the same RFID medium.
Restriction KK2192 (RFID only)
⚠ The cabinet lock is not compatible with the KleverKey App and cannot be managed with the KleverKey Portal.
The KK2192 locker lock is delivered with the automatic wake-up function switched off.
is switched off. To check the authorization of a key, it must be woken up from this sleep mode.
To wake up the reader unit, press the button on the front of the cabinet lock until the LED lights up.
Only then hold the key in front of the reading unit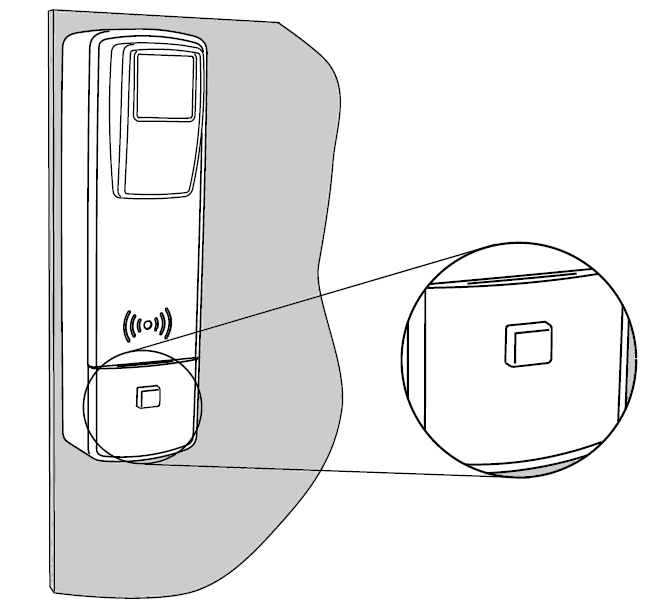 Open / Close Door
Wake up cabinet lock by pressing the button.
Hold authorized key in front of the reader unit until the green LED lights up.
Open or close the cabinet by turning the operating lever by 90°. Immediately after turning the lever, but at the latest after the closing time has elapsed (default value 5 seconds), the cabinet lock disengages again.

Cleaning and maintenance
Clean the cabinet lock only with a dry cloth.
Change Battery
CAUTION
🚩 Risk of injury due to improper use.
Do not charge, open or heat batteries.
Always replace discharged batteries with new ones.
Ensure correct polarity when inserting the battery.
Open the battery compartment of the cabinet lock with the battery replacement tool.
To do this, press the tool into the opening on the underside of the cabinet lock until the battery compartment can be removed.
Remove the used battery and insert a new one, paying attention to the polarity.
Push the battery compartment back in until it clicks into place.