This article describes how to mount the KleverKey cylinder.
General installation instructions
When installing the KK2120 knob cylinder in a fire/smoke resistant door
check the fire protection approval to ensure conformity

Ensure that any seals attached to the door do not interfere with the
proper operation of the KK2120.

Ensure that there is no protrusion of the knob cylinder to prevent the door from swinging freely.

The electronic knob cylinder may be delivered completely assembled. It may be necessary to carry out the steps described in the chapter Disassembly
chapter before mounting the knob module.

To put the knob module into operation, insert the batteries or, if available, remove the battery tab and close the housing (see chapter Battery replacement)

Before mounting the knob module it is essential to check the free movement of all
components.

Carry out the assembly with the door open.

Only for cylinders supplied in individual components: During initial installation
add 1 to 2 drops (max. 0.1 ml) of a resin-free oil into the cylinder body before mounting the knob module. It must not be sprayed directly into the cylinder body.
Remove battery tab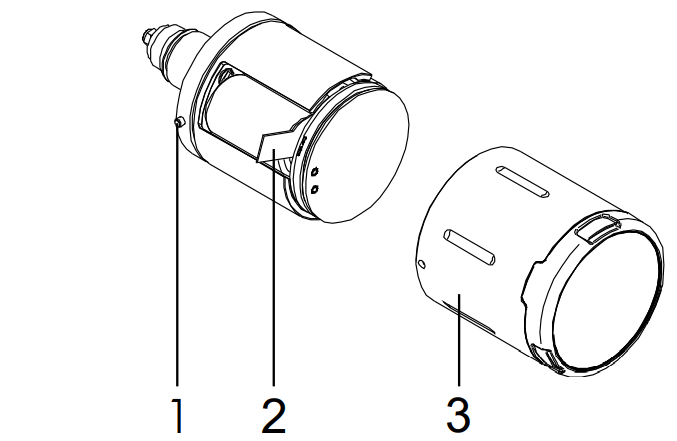 Pull off the pushed-on knob casing (3).
Remove the battery tab (2).
Push in the case locking pins (1, the second battery locking pin is located
on the opposite side of the knob module) and push the knob casing (3) back on. Make sure that the locking pins are correctly engaged in the cover.
Note:
If the locking pin cannot be pressed in, the cylinder must be moved to the battery change position. (link)
Assembly
Attention with key rosettes and CH round cylinders:
It should be noted that the mechanical knob cannot be placed on the cylinder housing until the cylinder housing has been pushed through the key rosette beforehand. Once the mechanical knob has been placed on the CH round cylinder, the key rosette can no longer be mounted. In this case, the mechanical knob must be removed again. To do this, the small spring in the hole on the side of the cylinder housing (on the side of the mechanical knob) can be pressed down simultaneously with two screwdrivers and the knob can be removed again.
Remove the forend screw of the existing cylinder and remove the existing cylinder.
Insert cylinder housing and fasten with forend screw.
Hand-tighten the forend screw, do not use a cordless screwdriver with a high torque.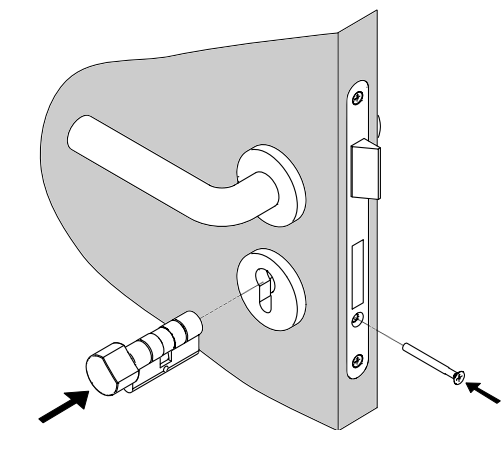 The cylinder body must not protrude more than 1 to 3 mm from the
fitting, but it should not be installed recessed in the fitting.
The electronic knob is mounted by inserting it into the cylinder housing and simultaneously turning it.
Note: If the knob is already mounted on the cylinder, it can be removed as described here.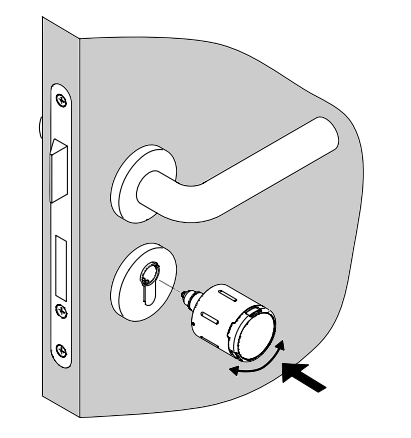 Please check the functionality and ease of operation of the knob cylinder with the door open.